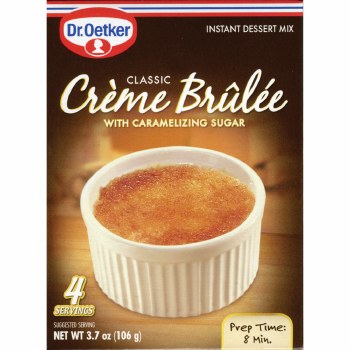 Dr. Oetker Classic Creme Brulee Instant Dessert Mix 106g
$2.99
Creme Brulee, as delicious as it tastes and sounds, it seems just as intimidating to prepare for the majority of us.

For years, Dr. Oetker has been simplifying the baking process for all of us by producing high quality baking mixes and ingredients, quickly becoming staples in kithcens all over the world.

This instant creme burlee mix makes 4 servings with a total prep time of just 8 minutes, so you can whip it together and wow your family or guests in the matter of minutes.

Directions:

First, combine milk and heavy cream in a saucepan over medium heat, slowly adding the contents of the custard pouch included. Bring to a low, gentle boil while stirring constantly. Let simmer and stir for 30 seconds. After simmering, pour mixture into oven safe dishes and let sit for 1 hour until a layer has formed on top of the creme. Lastly, broil for 3-4 minutes on a high oven rack with oven door slightly cracked open. Let broil for 3-4 minutes or until carmelized top becomes golden brown. Serve and enjoy!

Product of Canada.