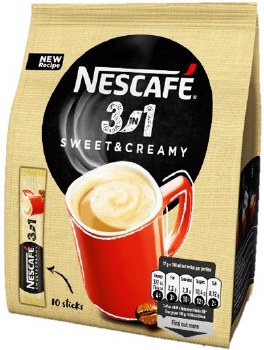 Nescafe 3 in 1 Creamy Latte Instant Coofee Packets 150g
$4.99
Nescafe is one of the world's most popular coffee brands, it has been producing bold aromas and flavors in every cup for years on end.

These creamy latte instant packets make mornings less of a hassle. Perfect for any busy student, mom, coach, etc.

Simply empty contents of 1 packet into your cup of choice and add 150 ml of very hot, but not boiling water. Mix together thoroughly.

Add ice cubes and various coffee syrups for an elevated drink ready in seconds.

Product of Bulgaria.