ATTENTION: We will be CLOSED on Monday, July 4th.
You may still place your orders as usual during this time. Any orders placed after 12PM EST July 1st will be shipped out on July 5th.
If your order contains refrigerated or frozen items, your order shipping may be delayed until July 11th, depending on where the final destination is.
For more information please feel free to contact us. Thank you for your business, we appreciate it very much!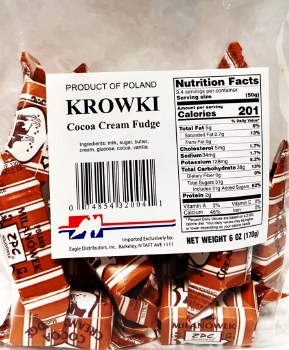 Eagle Krowki Cocoa Cream Fudge 170g
$2.99
Krowki fudge is perfect for satisfying sweet tooths after savory meals, long days, etc.

Only made with a few simple ingredients, this ccooa cream fudge is extremely addicting, and you might even eat the whole bag in one sitting without realizing it.

Ingredients: Milk, sugar, butter, cream, glucose, cocoa, and vanilla.

Product of Poland.